There are plenty of apps that can calculate college loan debt, but a new one from Wharton's Stevens Center for Innovation in Finance is different right down to its digital DNA.
This app is built by high school students, for high school students.
About 35 juniors and seniors who are interns at the Center have been working with faculty, staff, and professional partners for more than a year to develop an app to help college-bound kids just like them figure out the real costs of higher education. The students have done everything from researching the inputs to writing code to designing the interface for the free app, which launches in early 2024.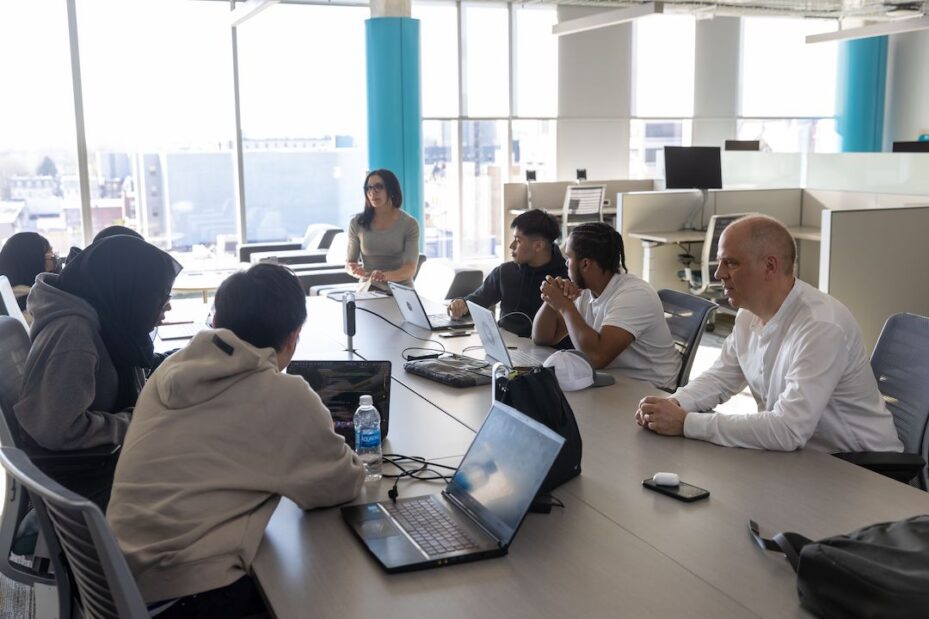 "I thought it would be a summer internship with a project, but then I realized this is big. We're making a difference," said Nancy Li, who began as a junior at Central High School in Philadelphia on the research team and now is a first-year student at Wharton. "Our goal is to make an app that shows students how college loans can affect them years into the future."
The app helps users gauge the net benefit of student loans by simulating their journeys toward their goals through the risks that await them. Users see the financial realities of their goals – tuition, rent, income, etc. – as well as the financial impacts of real-world risks such as not finishing the degree or not getting the high-paying job they want. They also see how the federal government softens the blow of these risks through its repayment programs. The simulations build in the probabilities of the risks based on data gathered from previous borrowers. By incorporating all this real-world experience, the simulations show both the risk and reward of a loan, allowing users to make the borrowing decisions that suit them best.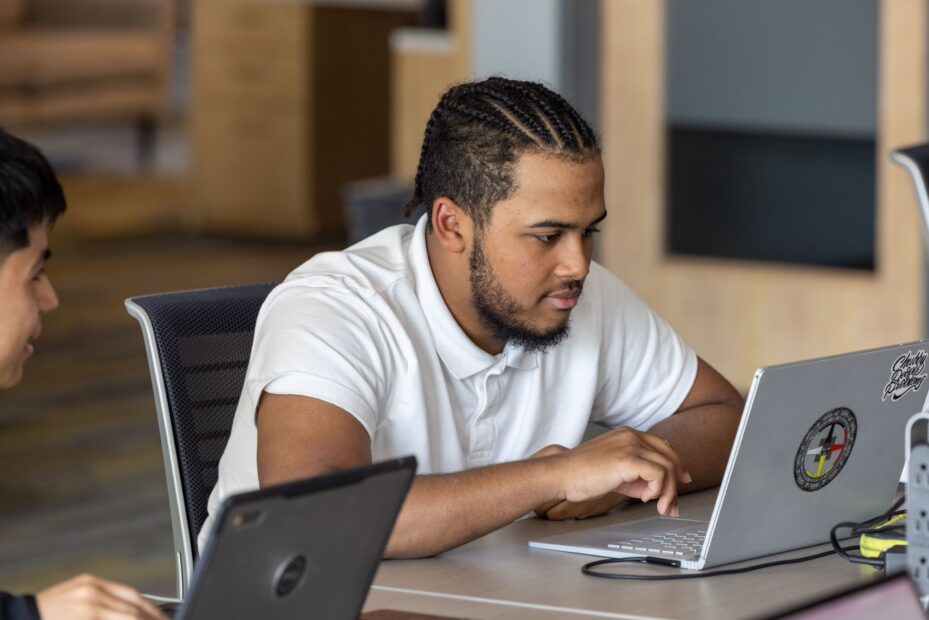 "You're able to look at different colleges that you are interested in, look up the costs, and different plans to pay off loans. It's really a tool to help students learn about the financial aspects of college," said Robert King, 17, a junior at Vaux Big Picture High School in Philadelphia who is part of the coding team.
Emily Lu, a Wharton MBA candidate and app project manager, said the ultimate goal is to help young people improve their long-term financial security. It takes 20 years for the average borrower to repay college loans, and many find themselves still saddled with debt while trying to buy their first home or pay for daycare for their children.
"When you tell a student their loan is $100,000, what does that mean to a high-schooler? What does that mean for the house they want to buy or the car they want to have?" Lu said. "The app is giving them that tool and presenting options, and I think being nonjudgmental in those options is really important. Maybe they don't go to their dream college because of the cost."
An App Two Years in the Making
The idea for the app came from Wharton finance professor David Musto, who is also faculty director for the Stevens Center. He wanted to create a project that would resonate with the community beyond Penn and engage high school students at the Center – and the app seemed like the perfect fit.
"There are a lot of nice aspects in that the students get to see it through, from inception to product market fit. They get to see the whole business of entrepreneurship," he said. "And they make sure we are looking at it from their perspective, so it keeps us constantly learning from them as they build their skills."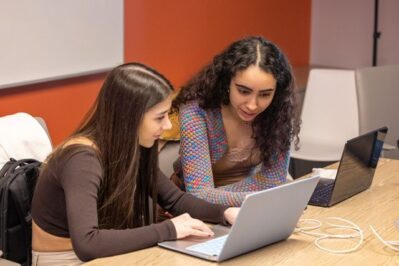 Musto said the app is different from so many others because it doesn't just calculate loan debt, it calculates risk. It provides a "multiverse approach," with seemingly endless choices for users to imagine all the financial paths their lives could take after graduation. Student loan debt stands at $1.6 trillion, accounting for the second-largest category of debt in the U.S. behind mortgages. That's why it's so important for young people to understand the financial impact of borrowing, whether five years or 30 years down the road.
"If everything went according to plan, nobody would talk about student loans. But there are all these risks, and that's where the difficulty comes in," Musto said. "Bad things could happen, but good things could happen. Interest rates could go up, or they could go down. Your income could go up, or it could go down."
Levra Labs, a Philadelphia-based firm founded by Wharton grads Steffen Cornwell and Sophie Ye, is leading the technical development of the app. Cornwell and Ye work directly with the students to guide them through the coding and revisions. The team spent the summer tweaking the product based on feedback from testing the app with classes at George Washington Carver High School of Engineering and Science in Philadelphia in June. They also chose a name, Finiverse, and designed a logo.
"The work the students have done is really something to celebrate. We have already had great response from students and guidance counselors. This is an app for high school students, made by high school students," said Gillian Bazelon, senior associate director at Wharton.
She works closely with Musto and has recruited all the interns, who are paid through the federal WorkReady program with funding distributed by the Philadelphia Youth Network.
The interns spend 10-20 hours a week working on the project. Some have come and gone over the last two years, with Bazelon adding more to the roster, but the majority of them have stayed.
"The students are extremely committed, and that's a big deal because there is so much attrition in these kinds of programs," Bazelon said. "I think that commitment speaks to the strength of what they are learning here with us."
Connecting Students with New Opportunities
All the students behind the app are from underrepresented groups. Li is the daughter of Chinese immigrants who came to the United States a few years ago from Guang Zhou, a city the southern part of China near Hong Kong. King identifies as multiracial with Black, white and indigenous heritage.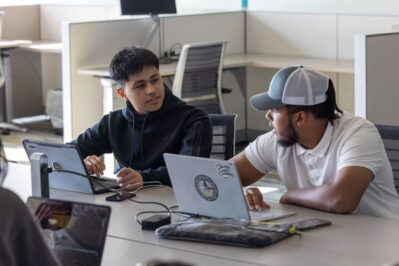 Both students said they love creating a finance app for other teens, especially with so many focused on the future and excited about going to college. They also hope their work inspires the next generation of underrepresented students.
"I would say look for whatever opportunities you can find," King said when asked what advice he would give younger minority students. "There are so many different resources that have opened up to me because I've been able to connect with people at my school and through this internship. There are opportunities everywhere; take advantage of them."
Li said she talks up the internship to curious friends at school, encouraging them to get outside their comfort zones and try something challenging. She wants to see more women like her in science, business, and industry.
"The biggest thing I learned is that you're never too young to make impact," she said.
That impact is felt by Lu, who said she's impressed by the students' intelligence and confidence. They question everything and often push back against their mentors, offering new ideas from their diverse backgrounds and points of view. They aren't always right, but their comments always spark lively conversation and healthy debate, she said.
"Seeing them grow into themselves, having that confidence in their own abilities and advocating for themselves – especially for the women of color in the room – is really inspiring," said Lu, 27, the daughter of Chinese immigrants.
Lu, who previously worked as a product manager for Capital One, said she was often told in her career that she didn't speak up for herself enough. Watching the students interact has emboldened her to be more assertive.
"I wish I had an experience like this in high school so I could take all this knowledge and get a seat at the table and say, 'No, my thoughts are worthy,'" she said. "It's become a really great mutual learning process that leads to this beautiful exchange of ideas, and it's incredible to see."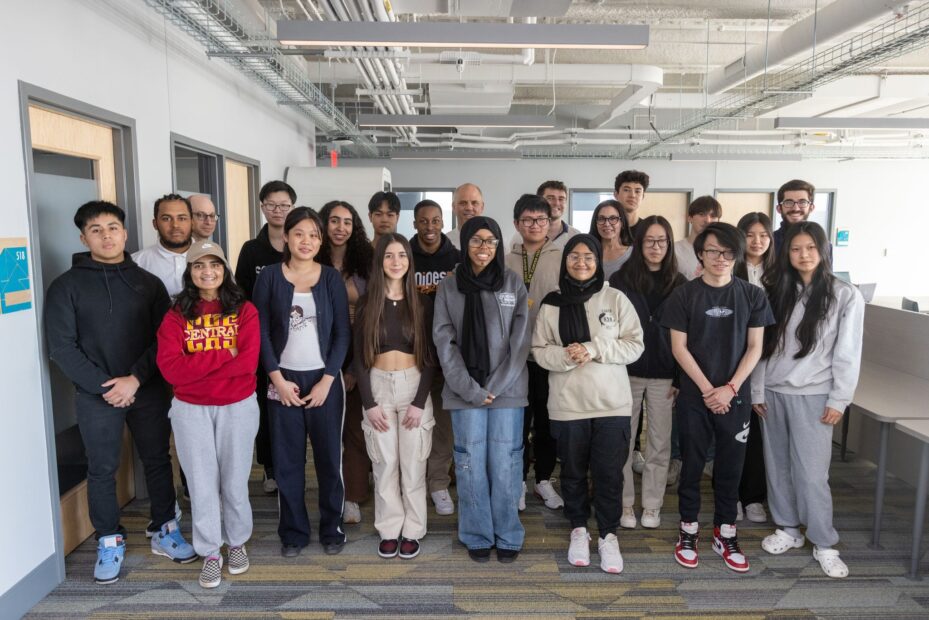 Bazelon, who works across the finance centers at Wharton, hopes the program can be a model for others that will serve more underrepresented students and the community.
"I am blown away by these students, by their commitment, their consistency and level of energy," she said. "The level of work that we are doing is high, and they have met the challenge of it. The fall internship program will begin at the end of September, with new local high school students joining our team. We are looking forward to putting something out there soon that lives out the mission of the program."
Explore the app on Finiverse.org.