Events
Conferences
The Stevens Center Fintech Conferences bring together emerging and established fintech companies, industry leaders, academics, and policymakers, to promote innovation in the financial sector. Stevens Center Fintech Conferences provide in-depth examination of critical areas of financial services such as payments, lending, wealth management, real estate, cryptocurrencies, and (re)insurance. Stay tuned for more information about the Stevens Center's Inaugural Fintech Conference.
Special Events
The Stevens Center brings to Penn campus the brightest and most innovative minds in financial technology. Lectures, roundtable discussions, and interactive sessions with financial institutions leaders, venture investors, and regulators strengthen our position as global thought leaders in the fintech ecosystem. Dialogue at these special events will help advance our research, curriculum, and thought leadership in fintech.
Connect With Us
Join our community and get updates on events and available opportunities.
ON SEPTEMBER 10, 2021, THE STEVENS CENTER HOSTED A RECEPTION FOR STUDENTS AND FACULTY TO WELCOME THEM BACK TO CAMPUS, INVITE THEM INTO THE NEW TANGEN HALL FACILITY, AND DISCUSS THE WORK OF THE CENTER.
The event featured a fireside chat with Arjun Kalsy of Polygon, which overviewed their work to build and connect Ethereum-compatible blockchain networks. Stevens Center research assistants raffled custom-designed "Ben on the Bench" non-fungible tokens and merch.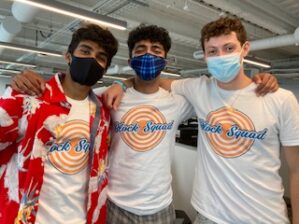 ON JUNE 30, 2021, SARAH HAMMER SERVED AS AN EXPERT WITNESS IN THE HOUSE FINANCIAL SERVICES SUBCOMMITTEE ON OVERSIGHT AND INVESTIGATIONS HEARING ON CRYPTOCURRENCY.
Ms. Hammer had the opportunity to testify about the importance of clarity and coordination (both domestic and international) in cryptocurrency regulation. She also shared her insights on investor protection and systemic risk. The hearing was broadcast on C-SPAN.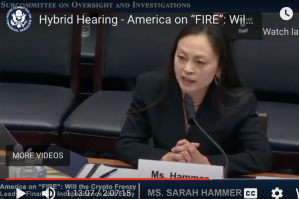 ON SEPTEMBER 21-27, 2020, THE STEVENS CENTER HOSTED A HACKATHON AND VIRTUAL CONFERENCE ON THE THEME OF COVID AND THE ECONOMY.
Wharton and Penn students came together to compete in a week-long hackathon aimed at identifying and analyzing data to understand the impact of the COVID-19 pandemic on the global economy and financial markets.  The week featured keynote discussions with leaders from finance, blockchain, academia, and public policy. See winning paper here.
On October 10-11, 2019, the Stevens Center hosted the Wharton Institutional Crypto CEO Forum, an invitation-only executive forum on cryptocurrency.
This private event featured discussions on regulation, exchanges, institutional execution, market-making, and payments.  The event brought together investors, executives, regulators, and thought leaders in the crypto space.  The event agenda can be found here.
On September 12, 2019, the Stevens Center held a fall speaker event with Amias Gerety, Partner at QED Investors.
At this event, Mr. Gerety shared his knowledge as a venture investor focused on office technologies and financial infrastructure companies.  Mr. Gerety also shared his insight as former Acting Assistant Secretary for Financial Institutions at the U.S. Department of Treasury, where he was lead advisor to the Treasury Secretary on financial institutions.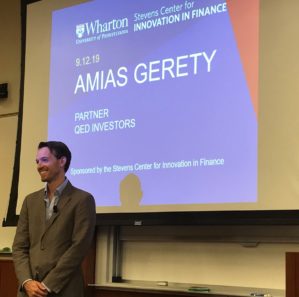 On Wednesday, April 3, 2019, Dean Geoff Garrett and Ross Stevens, W'91, hosted the inaugural event for the Stevens Center for Innovation in Finance.
This roundtable, held in Jon M. Huntsman Hall, and moderated by Professor David Musto, included industry leaders from global fintech companies.  President Amy Gutmann and Dean Geoff Garrett delivered the introductory remarks. Featured panelists included included Robby Gutmann, CEO of New York Digital Investment Group (NYDIG), David Klein, CEO and co-founder of CommonBond, Jacqueline Reses, Head of Square Capital, and Elad Roisman, Commissioner of the U.S. Securities and Exchange Commission.